RECENT POSTS: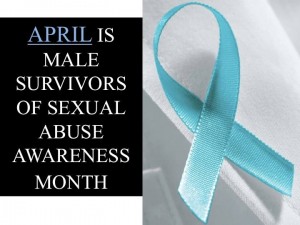 The month of April is male sexual abuse awareness month. Find out how you can support the cause here.
FOR SURVIVORS
Our "Frequently Asked Questions" section may just have the answer you're looking for. Click here.
Interested in joining our agency as a client? Click here to find out how.
Did you know that over 2.78 million men have been victims of sexual assault or rape? Click here.
Thinking about filing a police report? Here are the steps and procedure to get you started. Click here.
Would you like to share with us your story of recovery? If so, click here for more details.
RESOURCES
We're hosting a workshop on Making an Informed Response when working with male survivors of sexual abuse for helping professionals on April 25th & 26th. Click here for details.
We have a great list of book recommendations that will keep you informed while reading. Click here.
Some tips on supporting a loved one or friend who has disclosed to you that he/she has been sexually abused. Click here.
A few helpful websites for survivors of sexual abuse. Click here.
MEDIA
To view our collaborations with journalistic publications around the community, click here for our media archives.
We have a Facebook page! Click here to join the community.

On January 11th 2014, survivor Mark Riser started his cross country tour on raising awareness of childhood sexual abuse. Watch his most recent update! Click here for more details.
PARTICIPATE IN STUDY



Interested in participating in a study? Click here to view our current list.
ANNOUNCEMENTS

REGISTRATION FOR THE APRIL GROUP IS NOW CLOSED. NEXT CYCLE BEGINS JULY 2014.
Victim Services will be closed on April 18th (Good Friday). Please call the crisis line (604-872-3311)  if you need support during that time.
The Society supports boys and men who have been either sexually abused, sexually assaulted or experience partner violence at any point in their life.  We provide:
Sexual abuse is:
unwanted or inappropriate physical, visual, verbal, or psychological interaction, that is perpetrated by either gender, of any age.
Services are provided by appointment at 1 of our 5 locations.
For media enquiries, please visit our media page.